It's a short week, with Congress out for Yom Kippur on Wednesday and a papal visit on Thursday: Pope Francis addresses a joint session of Congress, with remarks that are expected to make both sides of the aisle nod and squirm. The Senate will vote on a 20-week abortion ban while the specter of a government shutdown continues to loom. The President will welcome Chinese President Xi Jinping on Wednesday after a late-breaking agreement over the weekend meant the US will not impose sanctions for Chinese cyberhacking.
---
Pope Francis to Address Congress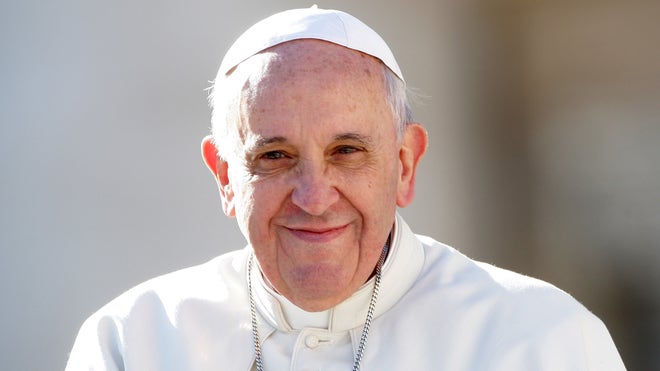 At the invitation of House Speaker John Boehner, Pope Francis will address a joint session of Congress. Approximately 31% of Congress is Catholic, including Speaker Boehner and Minority Leader Pelosi, as compared to 22% of the American public.
Pope Expected to Discuss Climate Change
While the content of the Pontiff's speech have not been released, speculation has been enough for at least one Catholic House Member to announce plans to boycott the speech: Rep. Paul Gosar (R-Ariz.) penned an op-ed explaining his objections to reports that the Pope will focus the speech on climate change.
In contrast, eleven conservative Members of Congress signed onto a resolution expressing commitment to "conservative environmental stewardship."
Sponsor: Rep. Christopher Gibson [R, NY]
In June, the Pope issued an "encyclical" (a papal letter sent to all bishops of the Roman Catholic Church) on Climate Change, stating: "Climate change is a global problem with grave implications: environmental, social, economic, political and for the distribution of goods… It represents one of the principal challenges facing humanity in our day."
Senator Al Franken introduced a resolution expressing agreement with the encyclical:
---
Senate Vote on 20-week Abortion Ban
As foreshadowed by Majority Leader Mitch McConnell during last week's Planned Parenthood discussions, the Senate will vote Tuesday on a bill to ban abortions after 20 weeks. The bill is not expected to reach the 60-vote cloture requirement, but will give Senators another opportunity to go on the record on the issue.
Sponsor: Rep Trent Franks (R-AZ) Prohibits an abortion from being performed if the probable post-fertilization age of the unborn child is 20 weeks or greater (with exceptions for rape, incest, or to protect the life of the mother). The bill has passed the House.
---
Government Shutdown Looms
House conservatives are standing strong on a demand for defunding of Planned Parenthood to be included in a must-pass spending bill to keep the government operating beyond September 30. Appropriations Chair, Rep. Tom Cole (R-OK) recently explained that Con­gress cannot ac­tu­ally change the status of Planned Par­ent­hood's fed­er­al funds in a short-term con­tinu­ing res­ol­u­tion be­cause they are al­lot­ted through Title X grants that have already been giv­en out. Last week, the House passed a "standalone" bill to defund Planned Parenthood:
Sponsor: Rep Diane Black (R-AZ) prohibits federal funds for any purpose to Planned Parenthood or affiliates for one year unless they certify that no abortions will be performed during that period.
From our Hill sources: Republican Leadership would like to see a CR that funds the government until December 11. Democrats prefer a shorter term CR to give incentive for a longer term bill to be negotiated (that would take spending through 2016) with their priorities, including: avoiding a showdown on increasing the debt limit, lifting Sequester limits, limiting any changes to Dodd-Frank, reauthorizing the Export-Import Bank. Ironically, the more COnservatives push and make Democratic votes necessary to keep the government open, the more leverage Democrats have on these priorities.
A "Clean" CR, which House Leadership and Democrats want, could upset House Conservatives and lead to a leadership battle in the House with a privileged "motion to vacate the chair" on tap. In that case, Speaker Boehner could find himself depending on Democratic votes to retain his gavel.
Sponsor: Rep Mark Meadows (R-NC)
---
Chinese President Arrives for State Visit
President of China, Xi Jinping, will arrive in Washington on Wednesday for a state visit that almost began with sanctions in response to Chinese cyberespionage. After an all-night negotiating session on Friday, officials announced that an agreement had been reached and sanctions would not be be imposed before the visit. Some in Congress, however, are encouraging the President to act:
Sponsor: Rep Joe Wilson (R-SC)
---
Also in the House:
This week House will rename approximately twelve federal buildings and post offices and consider the RAPID Act:
Sponsor: Rep. Tom Marino (R-PA) says the bill is "a way to reform and expedite the approval and completion of critical energy and infrastructure projects." "Everybody agrees that new or improved infrastructure is needed in nearly every corner of America. Everybody agrees lower energy costs mean more money in their pockets. And everybody agrees that approving critically important economic projects should be simple. This is exactly what my RAPID Act does. It streamlines, it eliminates duplicative processes, it rewards good environmental stewardship and it aids our economy," said Rep. Marino.
---
Please keep in mind that highlighting a bill does not imply POPVOX endorsement in any way. As always, our goal is to offer one more way to help you stay informed about the complex U.S. legislative system. —