Protesting SOPA? Turn your website into an action center.
Whether you are a SOPA supporter or plan to join the Anti-SOPA blackout on January 18, you can turn your website or blog into an online action center by using free widgets from POPVOX.
The POPVOX Write Congress widget lets your visitors send a message to their member of Congress without leaving your site.
A POPVOX Comment stream widget streams comments directly on your site so you can see what others are saying.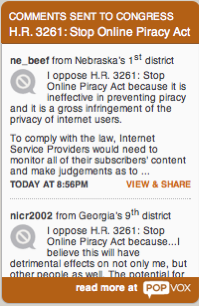 Or just pick up a POPVOX "button" to link to the bill action page and show a real-time POPVOX sentiment tally.
POPVOX widgets are customizable for any bill, any position. So whether it is SOPA, PIPA, NDAA, or any other abbreviation... just pick up the code, and build your movement.
View the widgets in action on the POPVOX Tumblr page.